How to Make an App Prototype: A Detailed Guide for Beginners
The app design phase for mobile applications should include an app prototyping stage. App prototyping is the act of creating a model of an app product so that users can test it before you spend valuable development time on creating the actual application. In a sense, we are using prototypes, to encompass everything from simple sketches of the product interface, to dynamic interactive computer models of the product, and stopping at wireframes on the way as an interim prototype.
Are you a developer who would like to work on a prototype app on the go?
Well, if your answer is yes, then this guide on how to make an app prototype will certainly come in handy for you. These days, the process of mobile app prototyping has changed a lot. Now, developers and designers can take the assistance of a reliable prototype design app to get the overall idea of their product with high fidelity. To help you, I will let you know how to use a visually appealing app prototype online solution right here.
The Best Tool to Create App Prototypes
Although there are a few solutions to create app prototypes, Wondershare Mockitt has to be the first choice of both beginners and experts alike. The app prototype solution features an online application that you can access on any platform. You can further download its Mac or Windows application to create any app prototype offline as well.
Tons of templates: On this mobile app prototyping solution, you can find a wide range of readily available app designs, templates, and demos that you can reuse.
User-friendly interface: The interface of the app prototype online tool is extremely user-friendly and does not require prior designing experience. You can use hundreds of available widgets and elements and drag-and-drop them to your canvas.
Different perspectives: In this prototype design app, you can select the exact perspective and environment you wish to work in. For instance, you can create a prototype app for iPad, iPhone, Android, web, etc. in different dimensions.
High fidelity: You can come up with a visually appealing app prototype design with high fidelity. There are several transitions, effects, and links that you can include to create a detailed app prototype online.
Import, Export, and Share: If you want, you can import designs from Sketch directly or export your iOS/Android app prototype in formats like PNG, HTML, or SVG. It also lets us collaborate with others and share our projects via links or QR codes.
---
How to Make an App Prototype?

After getting to know about the features of Wondershare Mockitt, you must be willing to give this app prototype tool a try. To start the mobile app prototyping process, you can just go to its web-based solution online and perform the following steps:
Step 1: Create a Project
To start with, you need to select the environment in which you wish to create your prototype app. It could be on a mobile, tablet, desktop, watch, or a custom design. You can also select any specific smartphone model to get the right perspective or import an existing template as well.
The target device on which you wish to create app prototypes should be selected carefully as it will be the foundation of your design.
Step 2: Design Your App Prototype Project
Once the canvas of the app prototype online tool is loaded, you can view different options on the side. From here, you can select any widget or element and simply drag-and-drop it on the model you are working on.
After adding an element to the app prototype, you can further go to the sidebar and customize it. For instance, you can change its color, size, overall appearance, and even make it reusable.
Step 3: Work with Dynamic Elements
Apart from the basic design of the app prototype, you can also work on dynamic widgets to attain high fidelity. From the sidebar, you can add links, notes, and manage its asset library. There are also provisions to add an audio or video file to your iOS/Android app prototype. You can also include Google Sheets, animations, and work on a dynamic navigation bar as well.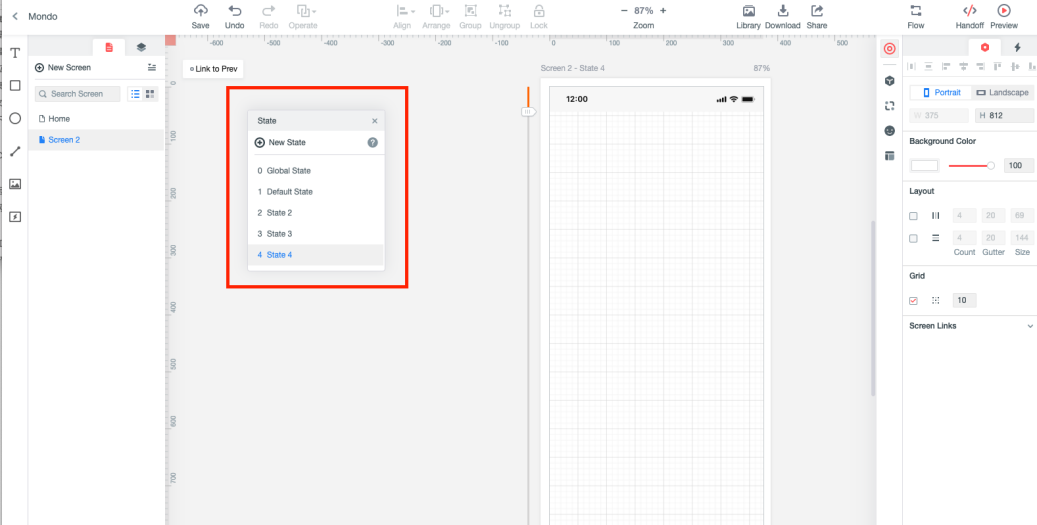 Step 4: Preview and Share Your App Prototype Online
In the end, you can get a live preview of your project and see how the app prototype would actually look like. To share it with others, you can go to the top-right corner and click on the "Share" icon. This will generate a link and a unique QR code that you can use to share your project with others. You can also export your prototype app designs into different formats from here.
---
Useful Tips for Mobile App Prototyping
By now, you would be able to create app prototypes pretty easily. Though, if you want to make the process easier, then consider the following tips and tricks:
Iterate
A lot of beginners make the rookie mistake of sticking with the same design. While creating any app prototype design, keep iterating it before finalizing things.
Think from a user's perspective
When you work with a prototype app, make sure that you think from the perspective of the user and not the developer alone. Try to maintain a roadmap of the user's journey to make a good iOS/Android app prototype.
Attain high fidelity
An abstract app prototype might not be very useful in the development process. Therefore, you should focus on making it more detailed to attain better fidelity.
Be Consistent
Even though your app prototype design is not the final product, you need to make sure that it reflects a consistent design. If you end up including different design aesthetics into one project, then it can confuse the developers.
Invest in a prototype app
If you wish to make the mobile app prototyping experience easier, then consider investing in a prototype design app. For instance, Wondershare Mockitt would be an ideal solution to create app prototypes of different types in minutes.
This brings us to the end of this extensive post on how to make an app prototype. As you can see, with the help of a reliable prototype app like Wondershare Mockitt, you can work on so many designs on the go. The best part is that this app prototype free tool is available online and can be accessed on any device. Therefore, you can work on your next app prototype whenever and wherever you want.
---
5 Interesting Tips to Get App Prototype Inspiration
Finding the best mobile app prototype inspiration can be an uphill task. However, we have simplified this by furnishing you with a list of the top 5 tips to get app prototype inspiration. Check below.
1. Joining a Community of Designers.
Joining a community of designers can be a very good decision in the long term. Every designer out there has amassed some inspirational ideas. So, the community acts as a library of design inspiration ideas. Members will share their ideas or designs, comment on designs they came across, or recommend certain websites that might give you invaluable app prototype inspirations. There are a lot of things you can benefit from in a design community.
2. Checking on Design Exhibitions and Competitions.
Design is creativity. The world values creative talents, and this is why lots of design exhibitions and competitions are organized more often. This is a perfect place for emerging designers to showcase their prowess. They could be students or other designers who are trying their luck from potential clients. Whichever the case, watching these competitions will help you gather huge design concepts for your application, and maybe you can get some mobile app prototype inspiration.
3. Direct Chat with Designers.
If you know some app designers, you can connect with them directly. Establish a rapport and exchange design resources if possible. They can send you some of their designs, and you can have a look at them. You can go ahead and ask them how they come up with good designs, and they can lead you to other resourceful platforms.
4. App Reviews
When an app is released to users, different users will welcome it differently. Certain elements go well with users while others flop badly on their score sheet. On the app review pages, you will find positive comments on design and negative comments. Check what aspects of the app design are undervalued or valued, then use them as a benchmark for your design.
5. Social Media
Social platforms are driving huge traffic across the world. Whether it is Facebook, Twitter, or Instagram, designers would most likely post their designs to advertise themselves or the company. Others can post photos or videos of design competitions, inspiration design websites, and links to several other good design resources. Simply look for those design pages on social media platforms and follow them to access a pool of useful resources.